Marin
One of the possible Survivors in This War Of Mine.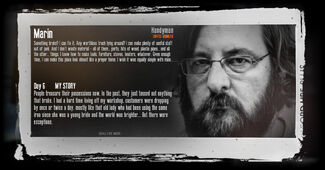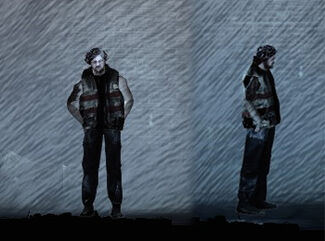 Description
"Something broke? I can fix it. Any worthless trash lying around? I can make plenty of useful stuff out of junk. And I don't waste material - all of them... parts, bits of wood, plastic pipes... and all the other... things. I know how to make tools, furniture, stoves, heaters, whatever. Given enough time, I can make this place look almost like a proper home. I wish it was equally simple with mine."
Marin's Story
"People treasure their possessions now. In the past, they just tossed out anything that broke. I had a hard time living off my workshop, customers were dropping by once or twice a day, mostly like that old lady who had been using the same iron since she was a young bride and the world was brighter... But there were exceptions."
"One day a little boy brought his action figure with a broken arm. You can't glue that kind of plastic. Oh my, I said, this is serious, and his eyes welled up and I had no heart to turn him down, so I just told him to return the next day. I fixed it - trade secret - and then he saw it, his smile lit up the whole room. I don't know what became of him. The toy I found in the street after all went to hell."
"I was asked to make a set of burglary tools. I refused. Money was good, but I wanted none of it. I wish I knew those customers wouldn't take 'no' for an answer. They came for me when I was upstairs with my wife, fast asleep. I figure they couldn't force the shop door, so they just tossed a Molotov through the window. Our bedroom window."
"The flames were everywhere. I grabbed the sheets and tried to, tried to, you know. Smother the fire. But her hair - everything was burning. Everything was burned down. I escaped. I don't know how. I wish I had taken that job."
Characteristics
Gets happier when helping people.
Uses less materials when crafting.
Can steal supplies and leave when he is depressed
Inventory
Inventory size: 10 Backpack Slots
End Game
The following text will appear when the game ends and Marin is alive.
"Surviving the war, Marin set about finding the boy who once brightened his day. His efforts proved futile so he rebuilt his house and kept the action figure in the shop window. And one winter afternoon, the entrance bell rang and the familiar smile has once again filled Marin's workshop - and his life - with light."
Alternate Ending
"Marin cheated death again and saw the end of fighting. Although he remained plagued by the survivor's guilt, he set about rebuilding his life and soon he was running a small repair business, again. He kept the action figure on his workbench but never found the courage to look for its previous owner."
The following text will appear when the game ends and Marin is dead.
"These hardened hands will never again make anything right neither for Marin, nor for anyone else. The tragic story of this man came to an end. Maybe he finally found peace."
The Survivors in This War Of Mine

 


Anton

Arica

Boris

Bruno

Cveta

Emilia

Katia

Marin

Marko

Pavle

Roman

Zlata